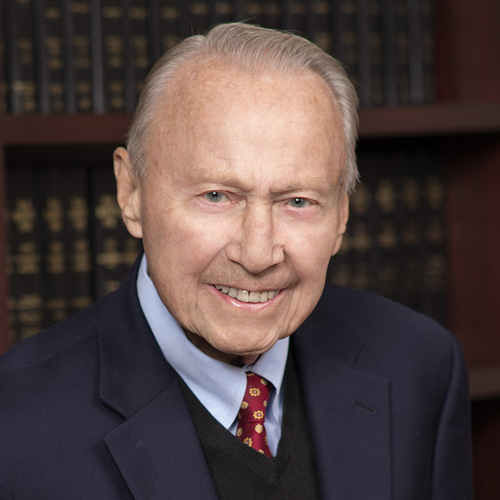 Richard V. Corbally passed away peacefully at home on Saturday, July 31, 2021 after a long battle with cancer. Mr. Corbally was born in Poughkeepsie, New York, on May 26, 1933, to the late Charles J. Corbally, former judge of the City of Poughkeepsie, and the late Catherine Bennett Corbally.
Mr. Corbally graduated from Poughkeepsie High School with honors in 1951 and was elected president of the senior class and student government association. He is a graduate of Georgetown University where he earned his degree in English in 1954. While at Georgetown Mr. Corbally was active in the ROTC program and The Georgetown Chimes, the university's male accapella group.
Following his graduation from Georgetown, Mr. Corbally attended Albany Law School where he obtained his law degree in 1957 and he was admitted to the New York State Bar Association in 1958. He then joined the law firm of Corbally & Gartland with his father, Charles J. Corbally, and his late brother-in-law, John J. Gartland, Jr. The firm later became known as Corbally, Gartland & Rappleyea. Mr. Corbally practiced law for more than 60 years. During his career he served as General Counsel for the Poughkeepsie Savings Bank and Dutchess Community College. In addition to his law practice Mr. Corbally served for many years as a trustee of the James J. McCann Foundation and James J. McCann Charitable Trust. He was also a former trustee of the Adriance Memorial Library, a former trustee of the Poughkeepsie Area Fund and Member and Chairman of the Planning Board of the Town of Stanford. He was a member of the Board of Trustees and former treasurer of the Dutchess County Bar Association. He also served several terms as Chairman of the Board of Trustees of Dutchess Community College. In 2013 he and his wife were awarded the Franciscan Award from St. Francis Hospital.
Mr. Corbally was married for 65 years to Julia Carroll Feldsine, the love of his life whom he met when he was 14. He would often mention that he fell in love with her at that young age. They had a very full life together raising four children on a farmette in Stanfordville, NY. As a former nurse, she gave him the best care he could have had until his last breath. The family would like to thank the hospice nurses and the many doctors he had during his lengthy illness.
Mr. Corbally is survived by his wife of 65 years, Julia Feldsine Corbally, his daughter Julia Corbally-Carson of Round Lake New York, his son Charles J. Corbally (Jackie), of Jeffersonville, Vermont, John B, Corbally (Allison) of Atlanta, Georgia, and Anne E. Ginder (Dennis) of Willow Street, Pennsylvania. He is also survived by his grandchildren, John J. Carson (Kristina) of Glenville, New York, Richard C. Carson (Cira) of Ballston Lake, New York, Christopher M. Carson (Tatiana) of Tacoma Park, Maryland, Elise M. Wiley (Christopher) of Lunenburg, Massachusetts, Jaycob W. Corbally and Anthony J. R. Corbally of Jeffersonville, Vermont, Caelan M. Corbally, Liadan E. Corbally and Liam J.B. Corbally all of Atlanta, Georgia, and Heinrik C. Ginder and Ava C. Ginder of Willow Street, Pennsylvania. In addition, he is survived by great grandchildren Keaton, Gulliver, Ellie, and Mac. He is also survived by several nieces and nephews.
He was predeceased by his mother and father, his sisters Catherine Corbally Gartland and her husband John J. Gartland, Jr., his sister Frances Corbally Damico and her husband Joseph Damico, his infant brother Charles J. Corbally, Jr. and his nephew and long-time law partner, Michael G. Gartland.
Mr. Corbally was an avid outdoorsman, antique collector, and tennis player. He was a member of the Poughkeepsie Tennis Club and the Millbrook Golf and Tennis Club at various time over the years.
Calling hours will be held on Thursday, August 5, 2021, from 3:00 p.m. to 7:00 p.m. at William G. Miller Funeral Home on Hooker Avenue in Poughkeepsie. A Mass of Christian Burial will be held at St. Mary's Catholic Church in Poughkeepsie on Friday, August 6, 2021, at 10:00 a.m. Burial will take place following the Mass at St. Peter 's Cemetery. If you wish to send an online condolence please visit our website at www.wmgmillerfuneralhome.com In lieu of flowers, please make donations to hospice or send Mass cards.