CONTACTS
Download Vcard
Download Profile
35 Market Street
Poughkeepsie, NY 12601
bdy@cgrlaw.com
Tel: 845 240 7322
Fax: 845 240 7323

AREAS OF PRACTICE
Foreclosure
BAR ADMISSIONS
New York State
Eastern District of New York
Northern District of New York
Southern District of New York
U.S. Court of Appeals, Second Circuit
PROFESSIONAL AND COMMUNITY ASSOCIATIONS
Mock Trial Coach, Vassar College
American Bar Association
New York State Bar Association
Saratoga County Bar Association
Dutchess County Bar Association
Northern District of New York Federal Court Bar Association
Former Vice President, Judge, Jessup International Moot Court Board
Former Academic Chair, Marshal, Phi Alpha Delta Law Fraternity
Former Gala Committee Member, Saratoga Hospital Foundation
Federal Bureau of Investigation Collegiate Marketing and Recruitment Program
NOMINATIONS AND AWARDS
Dutchess County Chamber of Commerce, 2018 Athena Award, Nominee
American Bar Association, Top 40 on the Rise Young Lawyer's Award, 2017 Nominee
Dutchess County Bar Association, Amee VanTassell Outstanding Young Lawyer Award, 2017 & 2018 Nominee
"Best of Poughkeepsie" Poughkeepsie Journal, 2018
SPEAKING ENGAGEMENTS AND PUBLICATIONS
ADA Website Compliance Webinar, Speaker, March 8, 2019
EDUCATION
University of Miami. B.S.,
cum laude (2007)
State University of New York at Buffalo Law School, J.D.,
magna cum laude (2010)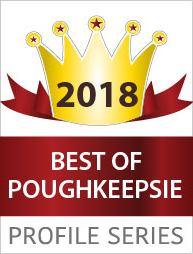 Featured in the Poughkeepsie Journal.
Click here to view my profile >>
Brooke Dana Youngwirth represents both employees and private and public-sector employers before state and federal agencies, including the New York State Division of Human Rights and the Equal Employment Opportunity Commission. Brooke also defends private and public employers against employment harassment and discrimination, labor violations, and various other federal and state claims.
In addition, Brooke frequently provides counsel to individuals, school districts, police departments, and other private employers on a range of topics such as wrongful termination, student disciplinary matters, employment discrimination, and the implementation of employment policies and handbooks. Brooke has held client training sessions and continuing legal education seminars on various topics including: employment discrimination and harassment prevention, institutional sexual abuse, discrimination and harassment investigations, electronic discovery and dispositive motions.
Brooke's practice also focuses on handling a variety of other types of commercial and civil disputes including franchise, foreclosure, personal injury, and business litigation.  Brooke's litigation skills allow for a majority of cases to settle prior to going to court, eliminating risk and expenses. Brooke's practical approach to matters ensures clients feel secure and confident while handling their business and personal matters.
Notable Representations
Represents mature franchise systems with state and federal compliance protocols, as well as in complex commercial litigation.
Represents employers and franchisors in complex wage and hour and employment discrimination litigation.
Represents banking institutions and private individuals in complex contested foreclosure and collection litigation.
Successfully authored Appellee Brief and opposition to NYCLU's Motion to File an Amicus Brief in Support of Petition for Rehearing. Significant case concerning the standard for qualified immunity. Gonzalez v. City of Schenectady, 728 F.3d 149 (2d Cir. 2013).
Successfully defended educational institution in lawsuit alleging discrimination based on disability and violations of the Individuals with Disabilities Education Act. F.M. v. Anderson Ctr. for Autism, No. 1:13-CV-0041 (GTS/RFT), 2014 U.S. Dist. LEXIS 126215 (N.D.N.Y. Sep. 10, 2014).
Successfully authored motion to dismiss copyright claims on pre-emption grounds. Kennedy v. LaCasse, No. 17-CV-2970 (KMK), 2017 U.S. Dist. LEXIS 113418 (S.D.N.Y. July 20, 2017).
Successfully represented  borrower in foreclosure action. After a seven day hearing, Court found that lending institution had acted in bad faith and subsequently tolled interest and attorney's fees.
Successfully defended borrower in foreclosure action and successfully authored motion to dismiss and obtained court awarded sanctions and attorney's fees client against prominent law firm and banking institution.
SaveSave
SaveSave